---
For long time I have been running my old client/server application for my remote control. But now (finally) I have setup a development system at my home QTH (Solna/Stockholm) to finish my new software development and also test new software and hardware. With this I hope the the development will speed up. Maybe I will be QRV from Stockholm as SM0LCB on shortwave band and/or 6 meter band. For more local traffic also on 2 meter and 70 cm bands. But then I need to improve my antenna which at the start is only 1 meter wire with a dummy load for station protection.

Index:
- Remote setup
- Local setup
- New ITX server

Today the 24 of January 2010 I have successfully been able to run the station with the hardware and the new software:

My new lcbSerial program for Linux between the ICOM front and the ICOM radio.
The same lcbSerial program for Linux between the CW client hardware and the CW server unit.
Still not tested the lcbSerial program shall work for the ICOM bus traffic also.
I hope to continue this test and development for some time. Not sure how long. But soon I hope the new software for Linux will be ready for download from my web-site. I will also later try to setup a Windows XP server and see if I can continue my development of the Windows software. For update see my news text window on my start page and also this page.

Now during September 2010 when there is no conds on microwave band I have start my development of the software and in the same time detup a new server for my remote operation. This is a brand new ITX computer which is small and hopefully good for this work. Until now it have worked very nice but still not fully operational for my remote operation.

73 de ULF / SM0LCB
---
Remote setup

Here is a photo of the radio (ICOM IC-706 MKIIG) on top of the power supply. The small gray box beside the power supply is the ICOM front panel interface box between computer serial port and the radio front panel jacket. The black box in from is my CW server which is connected between computer serial port and the radios PTT and CW jackets.


This photo show my development computer (old) running Ubuntu Linux. On top of the computer is the USB serial port used for connection with the CW server unit. On the table there is two gray boxes. The top one is my simple ICOM bus interface connected to an USB-port on the computer. The other is my audio isolation box for audio to/from the computers sound card. The computer in background is my sm0lcb.shacknet.nu web-server also running Linux.



---
Local site
This photo show my local site e.g. the client computer for controlling the remote site. I here use a small ASUS EEE computer running Ubuntu eee Linux. Under the computer is my remote box with interface to the ICOM IC-706 front panel, remote CW unit and audio switching/connection. Connection between computer and the box is via USB and within the box there is a small USB-hub with USB serial converters for the front panel and the CW unit.
This is the setup which I today use for my remote operation of my Íland station.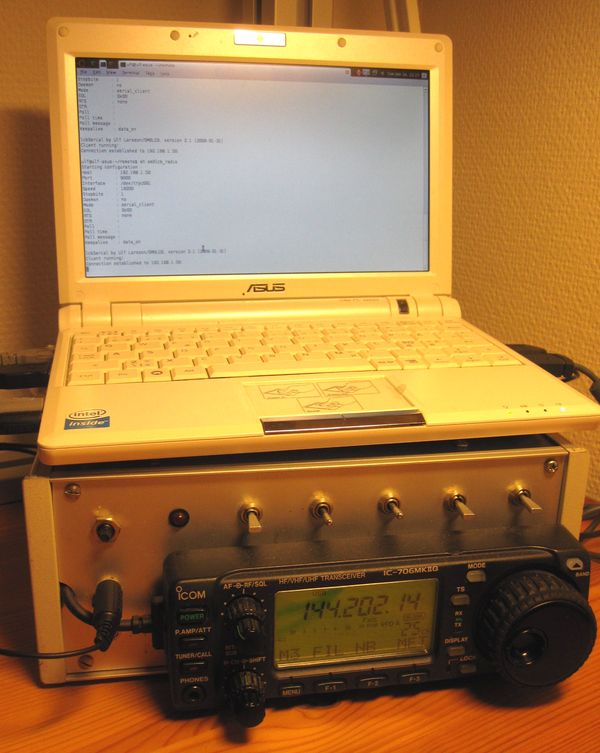 Besid this computer I also have a Windows XP computer(!). On this I do software development and via SSH update/compile/test the software on the server.
---
New ITX server
Before the summer I bought new server for the remote operation. Before I have used old computers but now it was time to invest in a brand new ITX computer in a small chassis. This ITX computer is build using Dustin components:

- Compucase MINI-ITX 8K01BS 120W Black (Dustin 5010229459)
- Seagate Barracuda 7200.12 250 GB 7200RPM SATA/300 8 MB (Dustin 5010224311)
- DIMM DDR2 2GB PC2-5300 667MHZ, KVR (Dustin 5010099460)
- Intel D94GCLF2D Little Falls ATOM 330 MINI-ITX Boxed (Dustin 5010241946)

Here is some photos of the new server:

The setup for the development using this new server today looks like following photos. Most of the software seems to work but I still need to test the software more.



On top of the computer:
- Radio front interface box.
- CW interface box (below the front).
- ICOM bus interface.
---