Audio recordings SM7LCB in JO86GH

Last updated 19 November 2009.

---



Welcome to listen to my audio recording during NAC 23 cm contest 17 November 2009

!

Active first hour and after that some QSO until close station at 20.30z e.g. QRV less then 2 hour.

73 de ULF/SM7LCB


QSO map 23cm: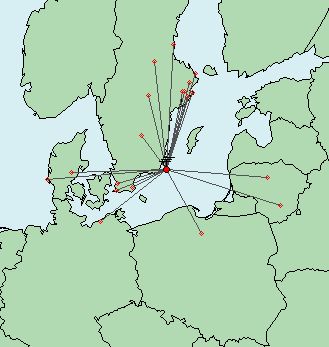 Note that some of the file can be large 1 – 5 MBytes!
Date     Time Call           Loc    Band Mode  km  Remark
----------------------------------------------------------------
20091117 1813 SM0ERR         JO89WJ 1.3G CW   352
20091117 1815 SM0EUI         JO99ES 1.3G CW   400
20091117 1817 SM0FZH         JO99HI 1.3G CW   360
20091117 1819 SM0DFP         JP90JC 1.3G CW   442
20091117 1823 SK0CT          JO89XJ 1.3G CW   353
20091117 1826 SM0NUE         JO99CE 1.3G CW   335
20091117 1830 SM3BEI         JP81NG 1.3G CW   553
20091117 1844 SP2IPK         JO93LR 1.3G CW   326
20091117 1856 SM7DTE         JO75CN 1.3G CW   168
20091117 1859 SK7MW          JO65MJ 1.3G CW   242
20091117 1924 OZ9KY          JO45VX 1.3G CW   420
20091117 1928 SM7ECM         JO65NQ 1.3G CW   224
20091117 1933 DL0VV          JO64AD 1.3G CW   374
20091117 1950 SM7GEP         JO77IP 1.3G CW   186
20091117 1954 SA4Z           JO79OF 1.3G CW   334
20091117 2001 SK4AO          JP70TO 1.3G CW   481
20091117 2010 LY2WR          KO24FO 1.3G CW   534
20091117 2019 LY2R           KO15VS 1.3G CW   455
20091117 2025 OZ1FF          JO45BO 1.3G CW   530
  

---
---