Audio recordings SM7LCB in JO86GH

Last updated 20 January 2010.

---



Welcome to listen to my audio recording during NAC 23 cm contest 19 January 2010

!

Active about 2 hours + some parts of the contest. Very nice signals from many of the stations but bad conds?
Low activity and bad conds into the east direction? First contest of the year so I hope it will be better soon...

73 de ULF/SM7LCB


QSO map 23cm: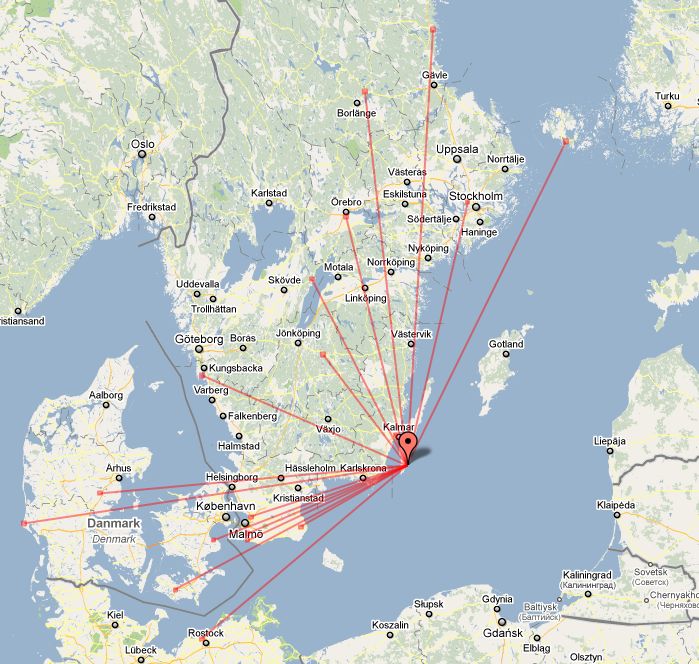 Note that some of the file can be large 1 – 5 MBytes!
Date     Time Call      Loc    Band Mode  km  Remark




----------------------------------------------------------------




20100119 1811 

OH0JFP

    KP00AB 1.3G CW   465




20100119 1814 

SM0ERR

    JO89WJ 1.3G CW   352




20100119 1819 

OZ1FF

     JO45BO 1.3G CW   530




20100119 1824 

OZ9KY

     JO45VX 1.3G CW   420




20100119 1830 

SM7DTE

    JO75CN 1.3G CW   168




20100119 1831 

SK7CA

     JO86DQ 1.3G CW    45  Tnx for own locator square!




20100119 1837 

SM7GEP

    JO77IP 1.3G CW   186  Nice signal Håkan!




20100119 1840 

SM6QA

     JO78FM 1.3G CW   276




20100119 1846 

DL0VV

     JO64AD 1.3G CW   374




20100119 1914 

SA4Z

      JO79OF 1.3G CW   334




20100119 1920 

SK4AO

     JP70TO 1.3G CW   481




20100119 1927 

SM7ECM

    JO65NQ 1.3G CW   224




20100119 1934 

SM6CEN

    JO67AJ 1.3G CW   299  Thanks for QSO!




20100119 1942 

SA7U

      JO65ML 1.3G CW   238




20100119 2102 

SM7EYW

    JO65MJ 1.3G CW   242




20100119 2112 

OZ3ZW

     JO54RS 1.3G CW     0  Heard, no QSO!




20100119 2138 

OZ6OL

     JO65DJ 1.3G CW   285




20100119 2140 

SM3BEI

    JP81NG 1.3G CW   553 



---
---