NAC microwave contest setup - SM7LCB
Last updated 23 Mars 2010.

---

With this page I will show my setup during the NAC microwave contest 23 Mars 2010. Not because of the number of QSO's or the good points I got during the contest. Instead I want to show how I used the ideer from Kjeld/OZ1FF using the Grindvista software and using my new "Path and Scatter Map 2" together with flightradar24.

The first two photos will show the setup at my home to control my remote station in JO86GH.

I use two computer. One for the remote control which is the small ASUS Eee PC running Linux and all the application for the remote control. This computer is connected to the control box under the computer with ICOM IC-706 front panel connection and also the hardware for the remote CW operation. The small keyboard on the left hand side is an extra keyboard for this computer.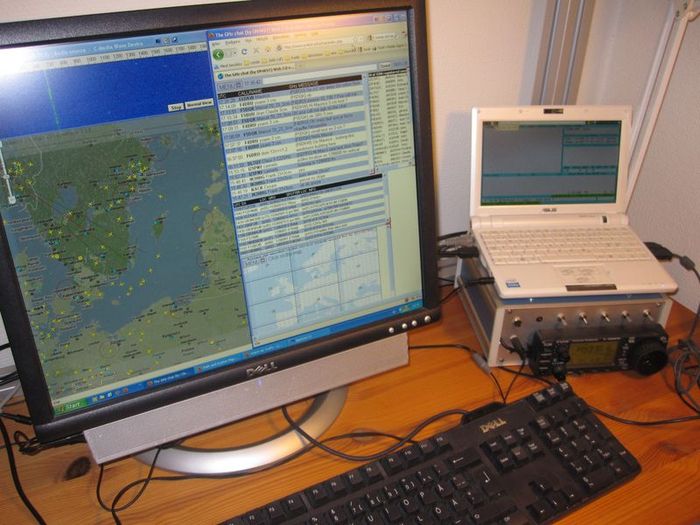 Here a closer look on the two computer screens. The lager screen is connected to my old Dell (Celeron) computer running XP. On this computer I run the map and flight map and also a window for the ON4KST microwave chat. On the top left side there is a window for the waterfall display (using spectran). I also do the audio recording using the spectran function to record to wave file.

As you can see the remote control is controlled mainly using my LOGGER program.

The setup on the larger screen look like this (sceendump),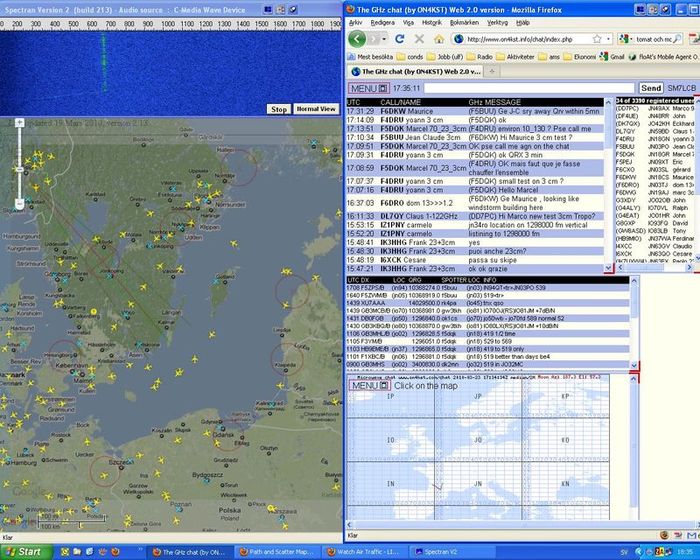 There are several instances of firefox running.
- In back is my "Path and Scatter Map 2" with all marked scatter areas for my selected DX-stations.
- Over that I have the flight map with the setting "transparent". Thereby I can see where the airplanes are on my scatter map.
- On top I have the ON4KST chat and also the waterfall display running.

Seem time to invest in a better computer and larger screen!

The contest result you can find here together with all other QSO's as SM7LCB.

73 es CUL de Ulf / SM7LCB (SM0LCB)


---
---